Celebrating our 50th edition

As our masthead picture indicates, we are celebrating our 50th newsletter this month!

With this, our 50th edition, I thought it may be a good idea to give you, our valued Member, an overview of some of the highlights over the last couple of years.

But before we start, a special thanks to all our readers for the positive feedback we regularly receive. Please keep it going – we love to hear from you! Also, a huge thank you to my editor and all my support staff for their valuable contributions over the last fifty editions.

In our very first edition (June 2014) we explained the rationale behind our name, Heads-up. Just a quick recap: "An advance warning that something is going to happen…so that you can prepare for it". Based on your feedback I am confident that we succeeded in doing this.

I am particularly grateful for our Members' unconditional support towards our own Care Foundation. We as an association are making a real difference in the lives of the less fortunate and I hope and trust that we will continue to do so.

Let us look at just some of the many highlights that stood out:
We provided valuable feedback on the annual Insurance Institute of South Africa conferences.
The feedback on the Road Show with the MIO and SAPS, keeping our members up-to-date of changes in legislation with guidance on how to adjust to these changes and challenges.
Assisting our members with inspections from the FIC, placing regular informative articles on the What/How/When/Where... the reduction on administrative sanctions, where possible.
Providing a documented process and assisting with consumer complaints and interacting with the Motor Industry Ombud's office.
The approval of all of the major Insurance Product Providers as product suppliers to our members in terms of the FAIS Amendment Act and the implementation of a Split Premium service. All of this was done to ease your own business process.
The training of sales staff on the National Credit Act and amendments, and regular articles on how to identify possible fraudulent documentation and what to do when confronted with this.
During this period, we also welcomed the BlueChip Dealers and all the Wesbank InspectaCar Dealers as members of the IDA.
Last but not least, our own SuperSpark, who keeps our readers informed on industry matters from expired maintenance plans to social media attacks.
We as a team are very grateful for the opportunity to contribute to the success of your business!

All the best,

Robbie Starke


General Manager: IDA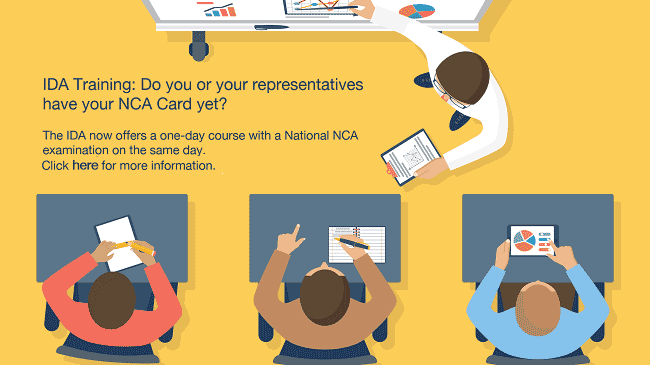 What to do when natis age differs from birth certificate

Jaco from Sannieshof was in a fix when it became apparent that the natis age of the vehicle and that indicated on the birth certificate did not match.
Read more...




Different criminal activities
This booklet from the Financial Intelligence Centre looks at nine different types and case studies of criminal activities.
Read more...






South African's opt for pre-owned vehicles
Good news for our members is that South Africans still prefer to buy pre-owned rather than new vehicles.
Read more...




Fit and proper
Insurers and intermediaries may find it challenging when it comes to maintaining and proving their competence to the Financial Services Conduct Authority (FSCA).
Read more...




From the Crow's Nest

The one thing that can be said about our industry is that there is never a dull moment.
Read more...




IDA CARE Foundation: helping babies at Ubuntu House

The IDA CARE foundation is making a difference in the lives of the babies at Ubuntu House in the Western Cape.
Read more...




IDA Dealer Member Zone: Welcome to our new members

Welcome to our new members this month.
Read more...

| | |
| --- | --- |
| | Heads-Up is a monthly electronic newsletter for members of the IDA. If, for any reason, you no longer wish to receive this communique, kindly unsubscribe here. Editorial co-ordination by The Hothouse Communications, 011 678 3545. |